Why move to the cloud with AWS?
Moving to the cloud is not only a technology decision, but also a business one. In addition to IT, it impacts the company in terms of strategy, benefits, costs, productivity and security.
Amazon Web Services is the cloud provider of choice for many companies from SMBs to government organizations given it's speed, security and reliability. Let's look why it is one of the best available options.
Why AWS?
Amazon Web Services currently holds the biggest share of the public cloud market and that's definitely not by chance.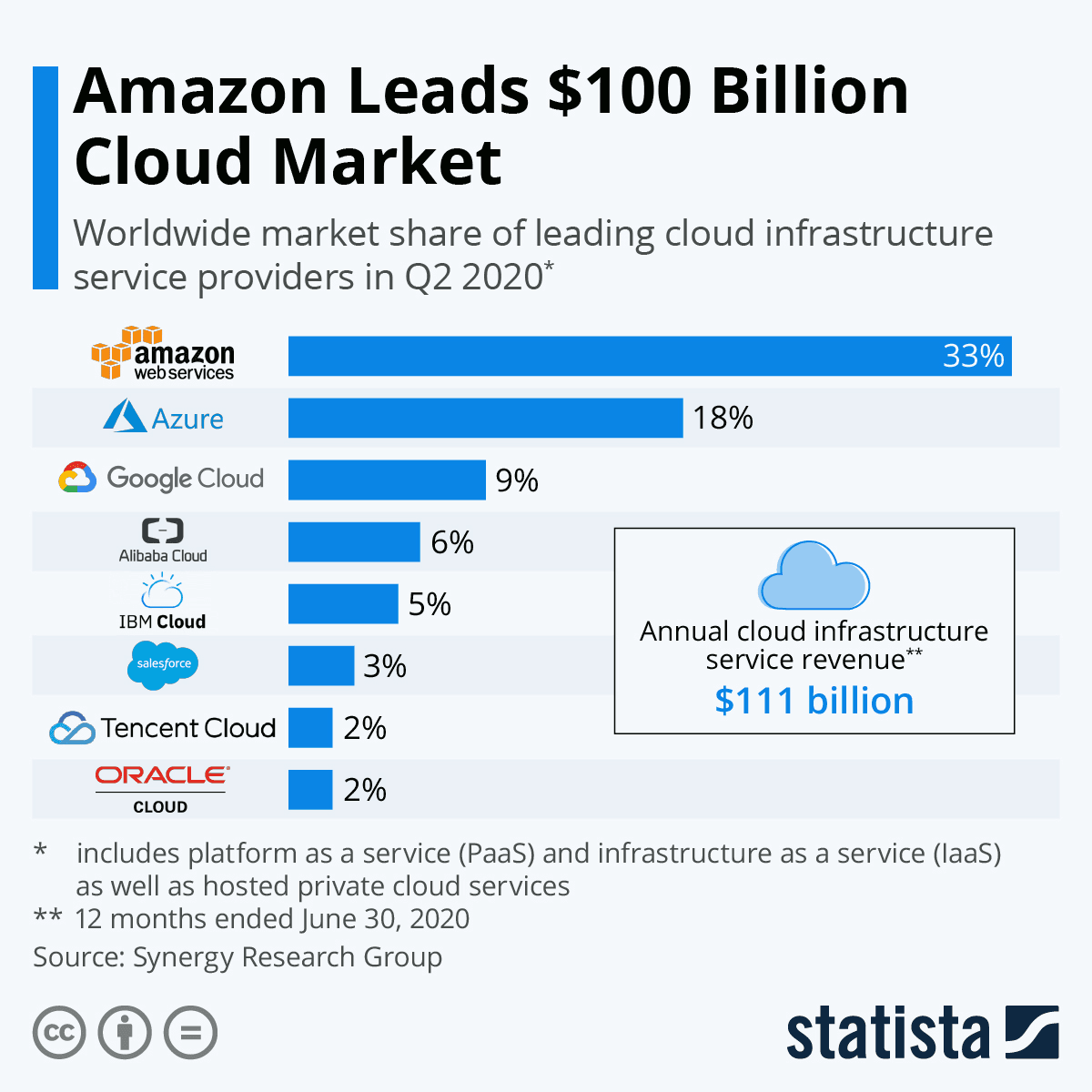 More than 280 cloud services and tools
By moving to AWS cloud, companies have at their disposal numerous cloud computing services and tools that operate seamlessly and in a secure way between each other. New ones appear on a regular basis, with their re:Invent conference providing insight to AWS' vision for the future and a deep dive on existing tools. It's a great community to build the products and services for tomorrow.
Reliability is key
The decision to move to AWS is ensuring that you'll have an optimal server infrastructure that is global, reliable, secure and always up to date. What sets AWS apart from the other cloud providers is it's high scalability.
Also managed services are the core reason why enterprises choose AWS, enterprises can remove the operational burden (and human cost & risks) to maintain their core systems like databases. AWS Aurora is one of the top performers products from AWS, it's one of the fastest growing in terms of customers and revenue.
Benefits of moving to the cloud
Scale as your business grows
As your business grows you need your infrastructure to follow suit in this journey. AWS Cloud computing is tailored just for that.
Amazon Web Services will up and down scale resources when needed to and the company will pay only for the using ones. It's a must in comparison to prepare dozens of servers for activity spikes while most of the time one would be more than enough. Auto-scaling saves both infrastructure and operating expenses.
AWS provides high reliability and frees up time not worrying about server maintenance and issues. If defects are identified, servers will be automatically provisioned and replace the faulty ones. With the Cloud Watch service you can set custom alarms / metrics and be notified at any time if you need to monitor peaks and usages, as well as fine tune your integration.
Data centers are dispatched all around the world to provide the high performance benefits to every single user, wherever they are located.
Reduce expenses
No more high costs to create an infrastructure - start immediately on your projects with the right services and instances required. Operational costs are also gone, leaving more resources for the team to focus on the product itself.
As you pay only for what you use, the months of development don't engender high infrastructure costs, while only the product team is consuming resources. This is also true while projects are in production, as the infrastructure ups and downscales, low activity periods costs remain low while the infrastructure is still ready at any moments to handle incoming high traffic.
Safe and secure
Cloud Security is AWS' highest priority. They completely secure its infrastructure while development teams have their own security controls in place for the data and applications deployed and stored in the cloud. Services like AWS IAM (Identity and Access Management), AWS KMS (Key Management Service) and AWS Secrets Manager provide efficient ways to correctly put those controls in place while respecting the best practices including :
Non-exposed credentials and automatic rotations
Data encryption at rest and at transit
Fine grained permissions to give access only to allowed resources with very specific rights
Audit trails to know who accessed a resource at any given time
Focused and more productive team
An underestimated aspect of moving to the cloud with AWS is the increased focus and productivity for the team. The focus is obtained by leaving more space to improve the product while AWS takes care of it's security, scalability and maintainability.
Developer tools also bring CICD to the team at ease from development to testing and production environments. All services are also well documented and AWS provides good training and resources to make the most of the cloud and build great products.
Common challenges while moving to the cloud
Different ways to move to the cloud
There are multiple options in efficiently moving to the cloud for organisations to choose from. For new projects the process is easier as the product can be built having in mind the different cloud services available to architecture the solution the best way.
For on-premise, in-production projects the migration can be done:
A full move to the cloud
Moving the whole application or some servers to EC2 instances, ECS containers in front of an Application Load Balancer (ELB). This solution requires moderate effort and permits shifting entirely to the cloud.
An hybrid approach
An hybrid approach by rewriting critical services requiring high availability and performance using serverless architecture. Leaving some parts on-premise or moving them with the first option. This approach is better for large systems with several applications.
How Accelerator Team can help you in your Cloud migration?
At Accelerator Team we are proudly an AWS certified partner and understand all the benefits of moving to the cloud.
We can help you in your transition by working hand-in-hand to create a migration plan, do the migration by your side or even do it for you.
We also operate training sessions for teams to better understand how to build, maintain and scale great products around AWS services.
QUESTIONS? WE'RE HERE TO HELP!