Top 3 Low-Code development platforms in 2021
Low-Code is not really new, but the scarcity of developers and skyrocketing demand from businesses for digital transformation have contributed to a renewed and sustained interest. Low-code is here to stay, so here's the essentials of what you need to know!
What is a Low-Code Platform?
A Low-Code development platform is a Graphical User Interface for creating applications with less code, or no code at all. These tools can help minimize manual coding as well as offering quick setup, deployment, scaling and security. Low-Code platforms do not seek to replace developers but to free them up for more value-added tasks. For example, by using a Low-Code platform a non-technical user can create a user interface and connect it to third party services integrated in the tool, or even to a custom backend or cloud functions created by developers.
Benefits of Low-Code Tools
Good enterprise-level Low-Code platforms offer:
Up to 10X faster than traditional development cycle
Cheaper to produce and maintain
No-Ops, fully managed and scalable in the cloud
Less margin for error, safer, provides audit trail
Low-Code tools allow more people to contribute to the application development process, including non-technical people.
The main reasons why businesses are interested in Low-Code platforms are to:
Accelerate digital innovation and transformation
Focus on business logic instead of infrastructure, security, maintenance
Reduce the IT backlog and increase responsiveness
Reduce dependency on hard-to-hire technical skills
Protect against technology churn
Standardize app development processes
Limits of low-code and how to overcome them
People think about Low-Code is just for simple use cases because they see them mainly as UI tools with few pre-made integrations. The most agile companies extend the capabilities of those tools by leveraging microservices created by developers to unlock the true potential of Low-Code and address much more complex use cases.
A few concerns
Low-code isn't the perfect panacea...at least not yet. Users cite several concerns:
Lack of customization
Limited integrations
Locked-in with the platform
Those concerns are real!

Citizen developers will get projects started with low-code, but quickly hit limitations. That's the right time to ask for developer assistance. The developer will be able to create customer components, plugins and APIs that the end user can consume to achieve custom complex tasks with the low-code editor.

Some low-code platforms have the capability to export the code and run it on-premise. One we really like is AppDrag. Another option might be to not store any data in the platform and use it only as a frontend to access your on-premise database. This approach is interesting but a lot harder than using the integrated tools to create and manage the database. It isn't a one-size-fits-all.


So that's the essentials. Now for the top 3 of 2021!

1: Microsoft PowerApps
PowerApps is a low-code / rapid application development product from Microsoft that allows users to quickly build apps.

Pros and Cons
✓ Create great looking UI
✓ Deploy to web & mobile
✓ Integration with MS Azure and Office 365
✓ Handles updates well

× Programming model requires a total rethink for developers
× The app load time is a lot slower with custom connectors
× Apps are only accessible with a Microsoft account
× You are limited in layout - there are phone or tablet options but desktop is not supported.

Pricing
$40 per user per month
Score
7.7 / 10 (based on 34 user reviews)
2: Salesforce Lightning
Salesforce Platform is designed for building and deploying scalable cloud applications with managed hardware provisioning and app stacks. It provides out-of-the-box tools and services to automate business processes, integrate with external apps, and provide responsive layouts. With Lightning on the Salesforce Platform, developers can also quickly deliver innovative apps with an interactive UX by using reusable building blocks including maps, calendars, buttons and number entry forms. And, with the Salesforce Lightning Design System, every developer has a how-to guide and code for building nice apps.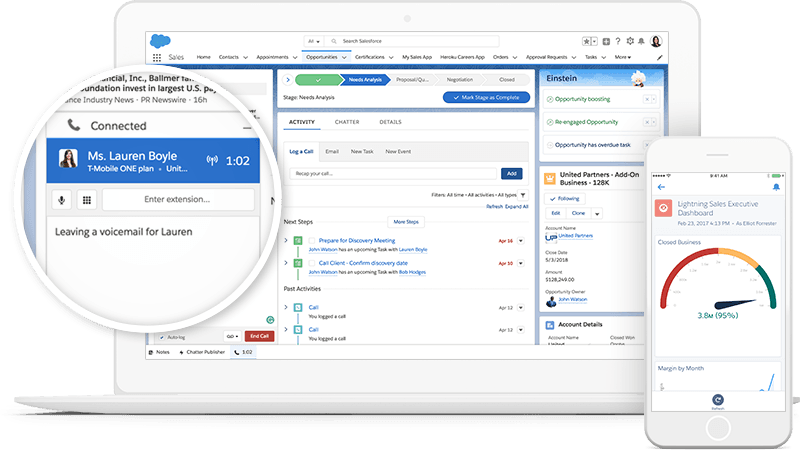 Pros and Cons
✓ Salesforce "look and feel" & perfect integration with other Salesforce products
✓ No coding experience required, intuitive
✓ Easy to manage users and user access
✓ Reporting dashboards

× Less flexibility in terms of UI
× Synching with 3rd party applications is often glitchy
× It can be a bit buggy at times, some performance issues
× Mobile version is lacking a tad

Pricing
$100 per user per month
Score
8.5 / 10 (based on 398 user reviews)
3: OutSystems
OutSystems is designed to help users build enterprise-grade apps incredibly fast. The vendor says their low-code platform is ranked number one by Forrester. This solution lets users visually develop their entire application, easily integrate with existing systems, and add their own custom code when they need it.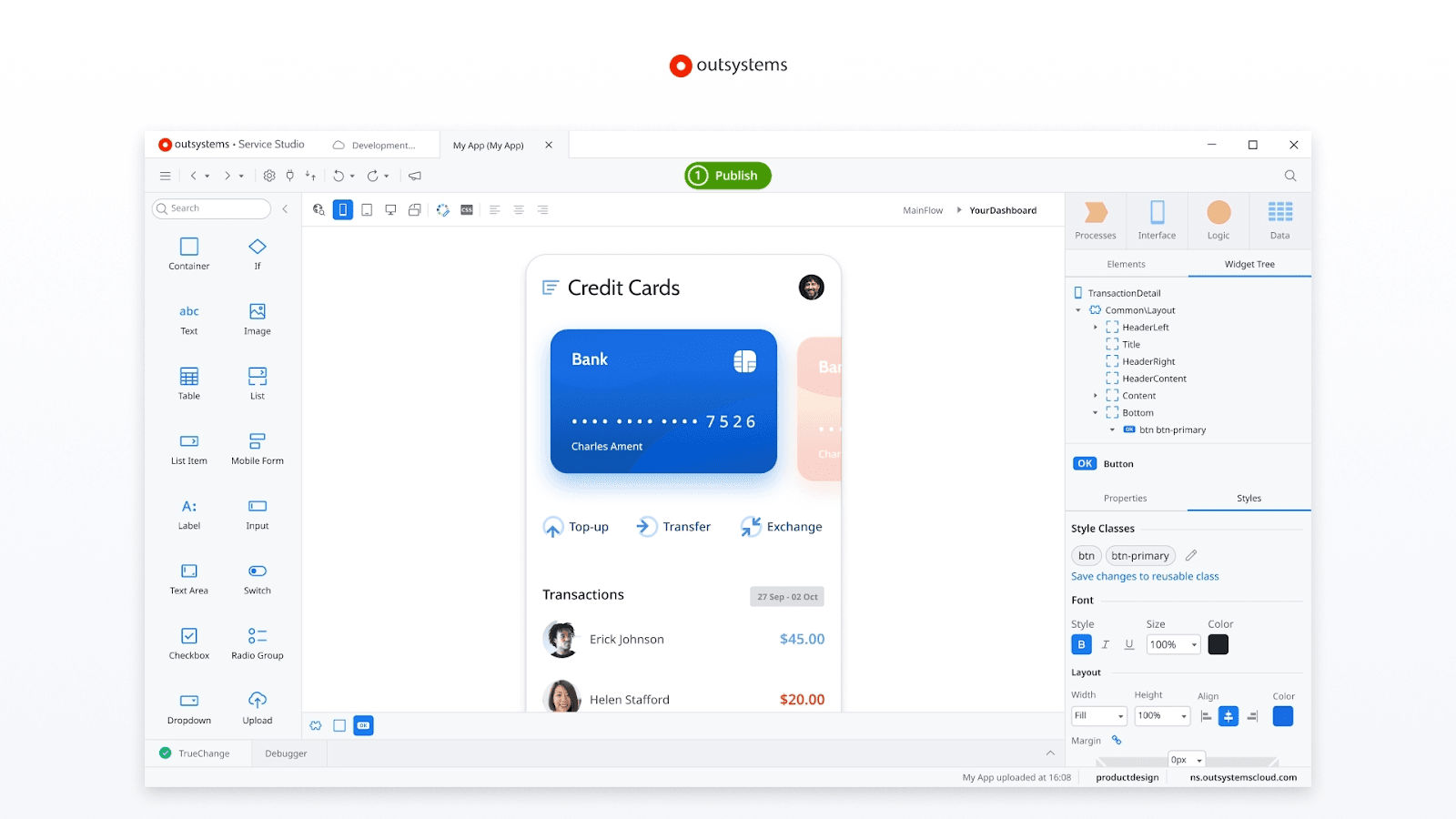 Pros and Cons
✓ Nice look and feel, quick onboarding
✓ Ability to integrate external resources and extensible
✓ Cross platform for mobile deployment
✓ Good support and community.

× Few integrations are available out of the box
× Not enough flexibility in the UI, some performance issues
× Editor works only on windows (no mac or web version)
× License model, with minimum 100 users, excludes SMBs.

Pricing
Basic: $4K per month, Pro: $10K per month, Including up to 100 users, then a cost per user per month applies.
Score
8.0 / 10 (based on 177 user reviews)
Conclusion
We've provided a quick overview of the top 3 low-code platforms for 2021, but this is just the tip of the iceberg. Low-code is a massive enabler for organizations that want to bring about rapid, effective digital transformation and innovation. There are several other platforms capable of delivering really powerful, scalable results and choosing the right one for your use case can be the difference between failure and success.

Contact Accelerator Team at contact@accelerator.expert and we'll ensure you make the right choices.
QUESTIONS? WE'RE HERE TO HELP!